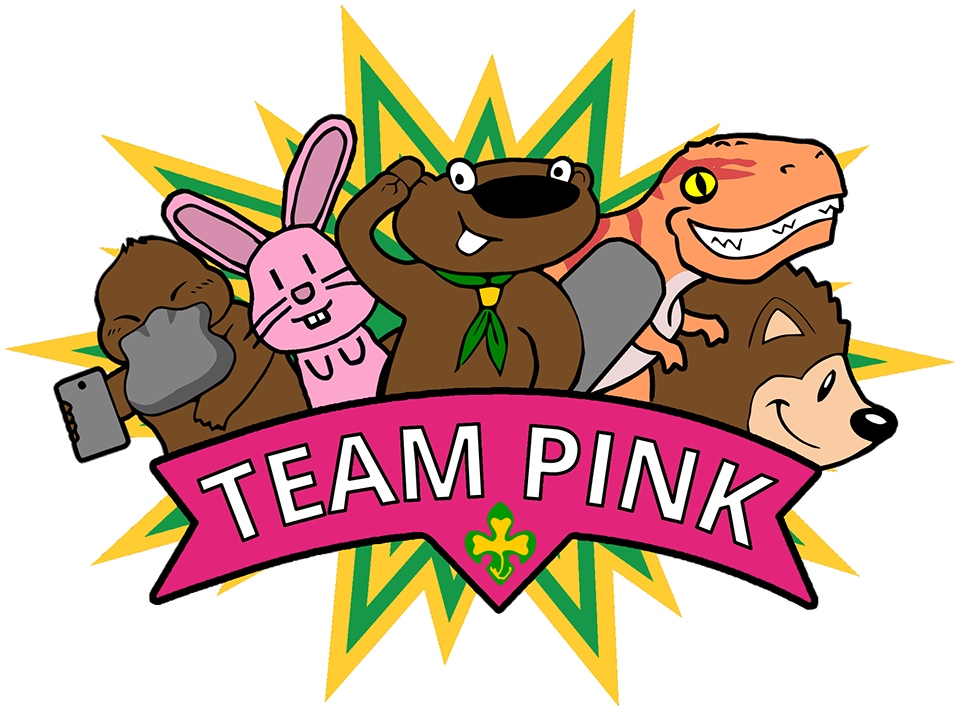 Back
Team Pink are the team of the Executive Officers and Assistants who are responsible for the running and development of the National Student Scout and Guide Organisation.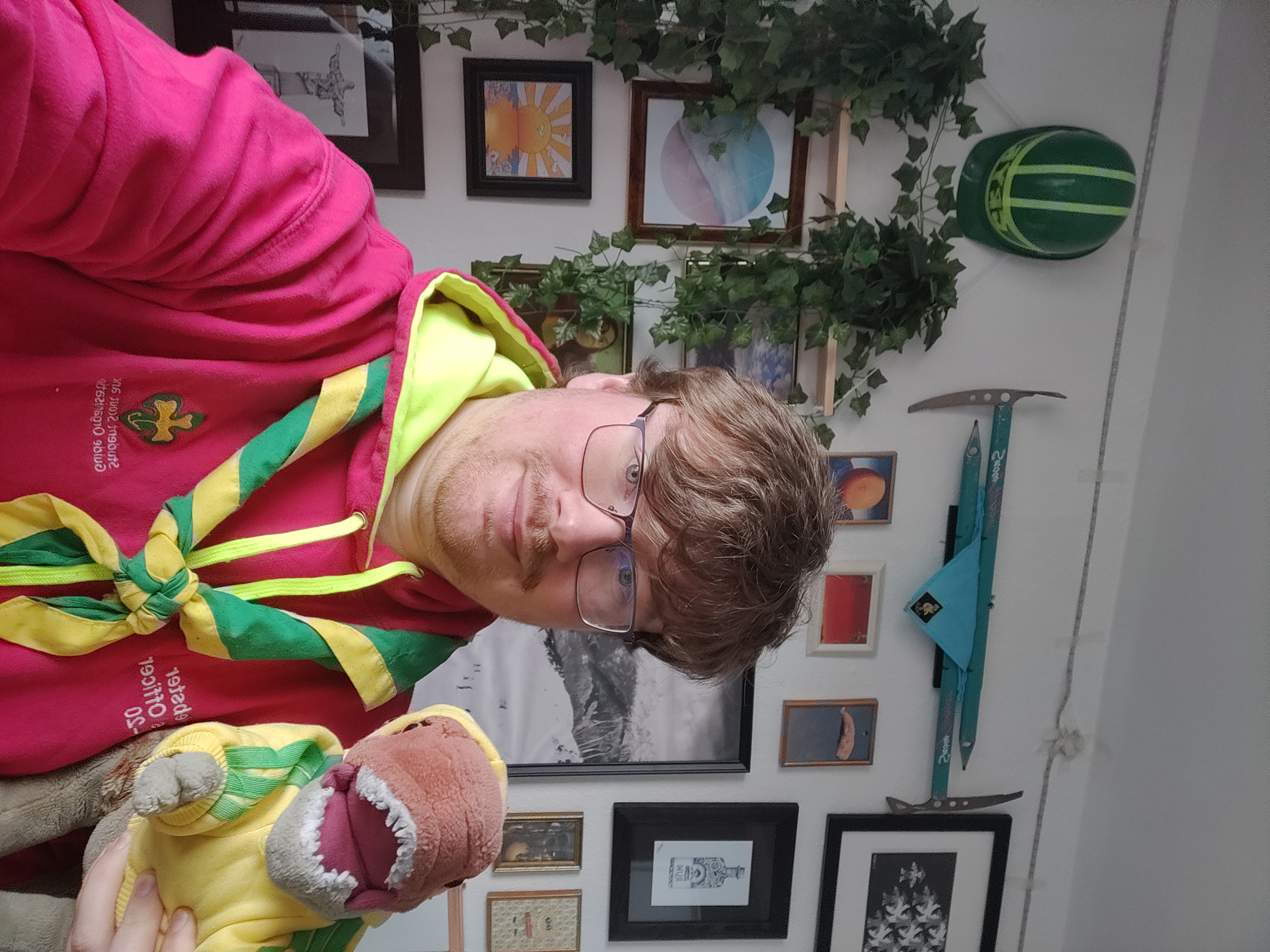 Tom Webster
Hey, I'm Tom and am the SSAGO Secretary! This is my seventh year of SSAGO, spending four years reading Mathematics in Cambridge, a year as an associate working in London helping with CUSAGC and other clubs and I'm now in my second year of a PhD in Informatics at Edinburgh and am an Indie member of SSAGO.
I first joined scouting as a beaver in Sheffield, moving up through all the sections until I finally reached SSAGO! I spent my first years heavily involved in CUSAGC as social secretary and then chair. It took a while to make my first national SSAGO event, Leeds Northern Lights Ball in 2016, quickly followed by Southampton Dino Rally and then every other SSAGO event since. Along the way, I ran Cambridge Duck Rally in the Summer of 2018, the virtual Green Rally Yellow Rally in 2021, had 5 other committee positions in CUSAGC and was part of the ScotNorth virtual fresher's event! Through SSAGO I've massively increased the number of UK cities I've visited, met loads of amazing people and had some extraordinary experiences.
This year I'm aiming to keep the best of virtual SSAGO as we (hopefully) return to something a bit more normal and plan to do lots 'behind the scenes' to try and make national SSAGO more accessible and democratic as well as creating some structure for SSAGO to efficiently accomplish long-term tasks that have been passed down from one exec to the next exec (often more than once).
I think the best thing about SSAGO is it's members and I'm always happy to hear from you, send me an email, tag me on Discord or find me at a SSAGO event (if we get to have one), I'll be wearing pink!
February 2022
Report
Policy: Created a new Policy Fixers drive so any members can join the project and make comments on policy and view past versions.
Factsheets: Created editable versions of SSAGO's factsheets, flagged ones that are out of date and identified demands for new factsheets.
Complaints: Met with the Scouts Commissioner for People to discuss SSAGO's complaint policy, how complaints have been handled and given input into the handling of Scout Active Support Unit complaints for the next update.
Charity: Attended more joint meetings with The Scouts and Girlguiding on our future relationship and improving links between organisations.
Guidance: Worked on new guidance for Club Reunion events and managing alcohol at SSAGO events.
Finances: With Alex and SAGGA met to discuss how SSAGO should manage expenses, finances and banking and represent this in new policy.
Emails: Sending and receiving lots of them!
Aims
Factsheets: Finish editable copies of the final few factsheets and ensure those that are out of date but easy to fix are fixed before handover.
Policy: Work with the incoming secretary on reviewing the final few policy documents.
Charity: Have a final list of changes and a new relationship agreement ready for the incoming exec's input.
Forms: Update all the emailable forms to web forms to make them easier to use.
September 2021
Report
Policy: Tried several alternative ways to manage policy.
Policy: Updated several documents and created some new fact sheets.
Training: Promoted SSAGO at DC Day and took part in lots of training from the scouts.
Events: I've seen lots of SSAGO members at NW and NE(SW) freshers and saw DUSAGG at their Midnight Madness event!
Emails: Responding to clubs' questions and filing away your forms.
Charity: Working with the Scouts and Girlgudining on their relationship with SSAGO once we become a charity.
Aims
Policy: Finding a way to easily keep the policy up to date and present changes to reps.
Policy: Have a complete, editable, and reviewable set of policy documents and factsheets available on Google Drive for members to access and ensure they're the same as the ones on the website.
Forms: Update all the emailable forms to web forms to make them easier to use.
Emails: Sending and receiving lots of them!
May 2021
Report
Meetings: I've been to lots and taken lots of minuites.
Policy: Restarted the policy fixers project with lots of regular posts.
Safeguarding: Dealt with issues and met with The Scouts for a better process going forwards.
Aims
Policy: Updating and creating lots of new policy on safeguarding, welfare, GDPR and national events.
Emails: Sending and recieving lots of them!
December 2019
Report
Been elected! It's been a busy month.
Set up new clubs. I've met with Aberdeen and Derby and they're all set up on the website.
Caught-up with events. Had video calls with Chocolate Rally, Roman Rally, Steel Ball, Survival Rally and Build-A-Rally.
Sent lots of emails. Over 100 in the past month answering all your questions and helping people join SSAGO.
Got set up on the exec. Got access to online banking, became part of the SASU and lots of other catching up.
Aims
Writing guidance. Making documents to help new clubs understand SSAGO and helping them grow as well as helping them understand the process of starting a new club and the support the exec can provide.
Liaising with potential new clubs. Currently working with groups at Edge Hill, East London, Askham-Bryan and Holloway.
International Webpage. Worked on a new international page for the website with Harriet.
Supporting existing clubs. Worked with existing clubs to help them overcome issues and grow membership.