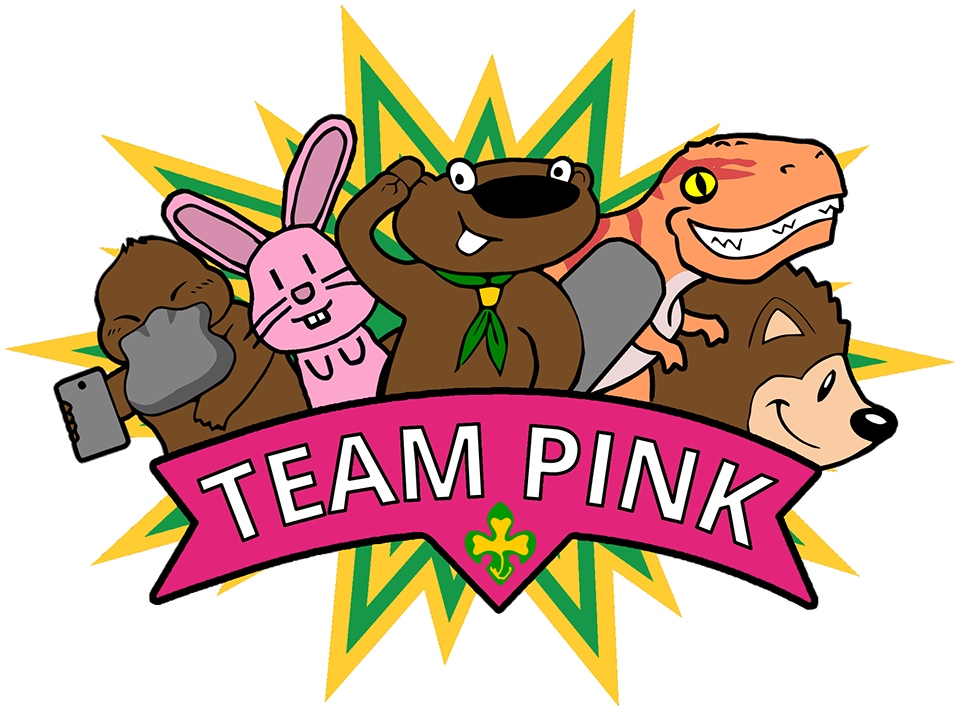 Back
Team Pink are the team of the Executive Officers and Assistants who are responsible for the running and development of the National Student Scout and Guide Organisation.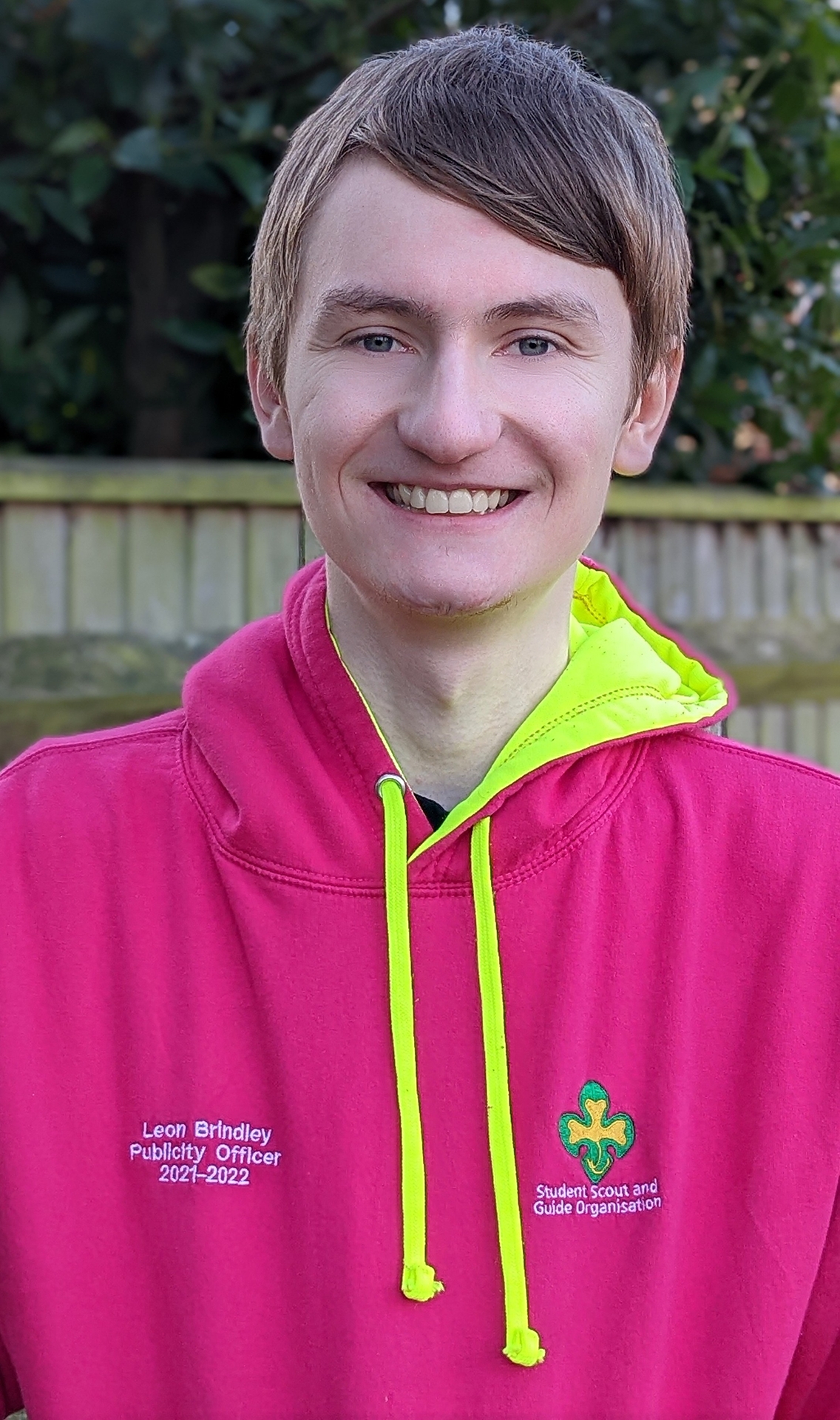 Leon Brindley
Hi, I'm Leon!
I was elected as SSAGO's Publicity Officer last year, and I loved the role so much that I ran again! I've learnt so much over the past year as part of Team Pink, and I can't wait to start my second term!
I'm in my 3rd year at the University of Southampton, studying MEng Electronic Engineering with Computer Systems. I love both playing and watching football- and in case you're wondering, I support West Brom!
My role in Team Pink involves coordinating publicity campaigns on social media, writing news articles, organising promotional events, creating publicity materials for local SSAGO clubs, designing National SSAGO badges, managing SSAGO Support events, and more!
I've also been elected as the Webmaster of Southampton SSAGO for a third year, and I was the Publicity Officer for Build-A-Rally 2020, the first online SSAGO Rally. I've been involved in Scouting since joining Beavers when I was 6, and carried on through Cubs, Scouts, Explorers and now SSAGO! I also volunteered as a Young Leader with Beavers for 4 years before starting university.
If you have any feedback, questions or suggestions, please feel free to get in touch!
Publicity
February 2022
Report
Online publicity campaigns: Continued to promote SSAGO online, including events like Viking Rally and our upcoming SSAGO AGM, key dates like Remembrance Day and Christmas, and additional initiatives such as the Rally of Games Ludo Badge and Christmas Egg Hunt.
Publicity Officer photo library: Uploaded lots of new photos from events like WomBall and Viking Rally to SSAGO's Publicity Officer photo library.
Team Pink publicity resources: I've updated the resources available to future Team Pink members (e.g. logos, images and posts) to support future Publicity Officers, and updated the Publicity Officer social media spreadsheet with new social media profiles from our local SSAGO clubs.
Online profiles: I've updated the branding and configuration of SSAGO's online pages and groups, including on Facebook, LinkedIn and YouTube.
Aims
Social media promotion: Continue to promote SSAGO as widely as possible on Facebook, Instagram, Twitter and Discord!
Awards: Roll out exciting new SSAGO Awards at Once Upon A Ball 2022.
SSAGO Support: Promote additional activities, alongside Warwickshire Scouts' Get In 2022, through our SSAGO Support programme.
October 2021
Report
Promotional videos: Released promotional videos on the National SSAGO YouTube Channel: 'New Uni? New Society | The Student Scout and Guide Organisation', 'We Are The Student Scout And Guide Organisation' and 'Introducing The Student Scout and Guide Organisation'.
Social media: Publicised various aspects of SSAGO on social media, including events like WomBall, Viking Rally and Rali Cymru, projects like Badges @ Home and the SSAGO Minecraft Server and photos from local SSAGO clubs like the inclusion of SSAGO in various university Freshers Fayres.
Badges: Designed and showcased the new SSAGO blanket badge.
Outreach: Hosted an introductory talk, titled 'Scouting for Students', at Gilwell Reunion, introducing prospective members (and parents of prospective members) to SSAGO.
Aims
Social media: Continue to widely publicise SSAGO to new members on Facebook, Instagram and Twitter.
Promotional videos: Create additional promotional videos for SSAGO, using newly submitted clips from SSAGO members.
Awards: Create a brand new collection of SSAGO awards to reward those who contribute so much to SSAGO!
March 2021
Report
Social Media: I've been consistently posting on the SSAGO social media pages- particularly Facebook, Instagram and Twitter. I've also scheduled posts for important dates in the future (like Pride Month and Father's Day).
Additional Promotional Videos: I've put together a new National SSAGO Promotional Video, which I'll be publishing shortly!
SSAGO Support: I've communicated with partners about future SSAGO Support events.
Aims
Promotional Videos: I've been working on new promotional videos for SSAGO- if you have any video clips which you want to be included, you can send them in at ssago.org/special/upload!
Customisable Advertisements: I'm planning to create new advertisements (social media posts, flyers, etc.) which local SSAGO clubs can customise to their liking!
Online Publicity: I'll continue to publicise SSAGO on social media.
SSAGO TikTok: I plan to create more content for our new SSAGO TikTok! If you want any SSAGO-related clips to be featured on there, make sure to send them in! :P